2020 BMW i3 Reviews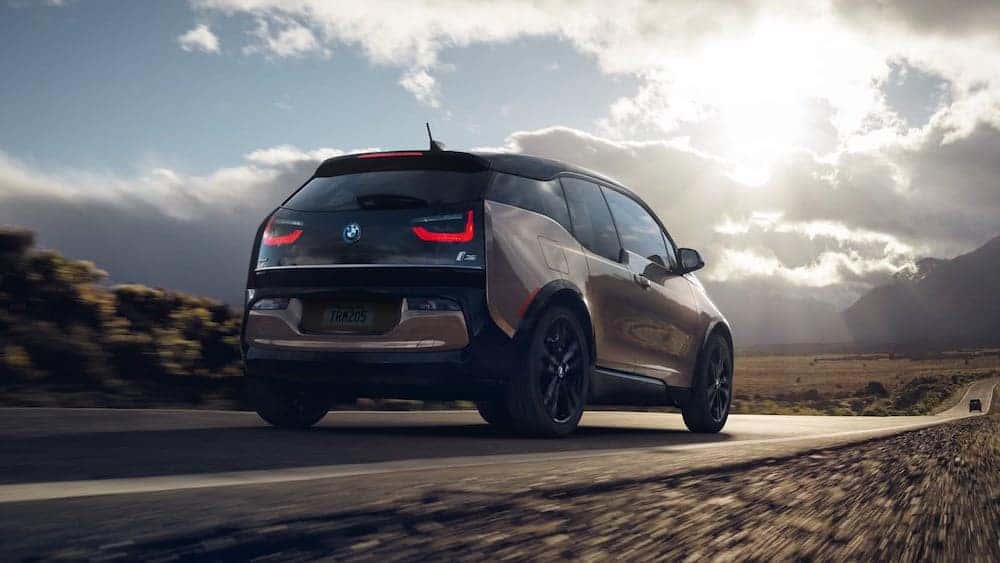 The BMW i3 is a great example of the brand's fresh approach to Electric Vehicles. An usual exterior design will attract attention in San Jose, and there are plenty more innovations to be found inside and under the hood. Read on to see what auto experts are saying in BMW i3 reviews, and don't hesitate to contact us at East Bay BMW to learn more about the i3 today!
BMW i3 Reviews: Performance and Efficiency
Unusual innovations are everywhere when it comes to i3 performance. BMW i3 reviews are also quick to point out the surprisingly energetic engine response. Here's a bit more from the reviews on BMW i3 performance specs:
AutoTrader.com: "The i3 also brings the concept of one-pedal driving. This sounds off-putting, but it's easy to get to grips with. Because of the regenerative brake function (which captures and stores energy that might otherwise be lost), the car slows as the driver eases off the throttle. The more pronounced the lift-off, the more forceful the slow-down. In city driving, this stop/go ability is far less tiring and stressful than having to dance the right foot between two pedals."
AutoTrader.com: "What might be surprising is the i3's well-tuned handling, courtesy of a nearly 50/50 front/rear weight distribution and BMW's expertise in RWD dynamics. This is an engaging EV for less than half the price of a Tesla Model S. Happily, it's also supple and quiet in normal driving, with suitably upscale manners."
Cars.com: "A higher-capacity battery pack boosts the i3's all-electric driving range to 153 miles, versus last year's 114-mile range."
U.S. News: "The 2020 BMW i3 comes standard with a 170-horsepower electric motor. The i3s trims feature a 181-horsepower electric motor. All i3 models deliver quick acceleration. A single-speed transmission is standard."
BMW i3 Reviews: Interior Dimensions and Features
Lots of reviewers like the generous interior space and tech features inside the BMW i3. Reviews also call attention to a theme of sustainability that is reflected throughout the materials and design:
U.S. News: "The i3's cabin features eco-friendly materials such as recycled cloth upholstery. BMW also uses the natural extract of olive leaves to tan the optional leather upholstery. Sustainably sourced eucalyptus wood trim is also available"
U.S. News: "There's plenty of cargo space in the BMW i3. This hatchback has 15.1 cubic feet of cargo space behind the rear seats and 36.9 cubic feet of space with the rear seats folded down. With the battery housed under the cargo area, the i3 has a high load floor, which can make it harder to stow hefty cargo."
BMW i3 Reviews: Exterior Features and Styling
Not only is the i3 a style standout on the road in San Francisco, its unusual design has real purpose. A mostly carbon fiber body structure lightens its total weight for greater electric range, and a tall stature creates great visibility for city driving. See what the critics are saying as they review BMW i3 models:
Consumer Reports: "With its space-age body, super-efficient powertrain, and laser focus on its urban mission, the i3 pushes the boundaries in automotive design. This tall, narrow, electric city car not only looks like a futuristic personal transportation pod that just drove off the set of the latest "Tron" movie, it's the first widely available car to use lightweight carbon fiber for its basic body structure."
AutoTrader.com: "There's nothing else quite like this premium compact hatchback. It's a car for cities, so a high driving position and excellent outward vision are essential factors in the design. Just as city buildings go up instead of out, so does the i3. This creates plenty of headroom and the rear seats will take a couple of average-sized adults with ease."
Find a BMW i3 for Sale With East Bay BMW
Explore our online i3 inventory from the comfort of your Dublin home to learn more about trims, upgrade packages, and optional features. When you're ready to take the next step, apply for financing online today to get started. Our team can answer any further questions about trading in your current BMW or special offers to save on your next purchase.
More from East Bay BMW
With a premium HiFi 10-speaker sound system and an expansive panoramic moonroof, the 2020 BMW X5 interior is sure to take your San Francisco driving experience to new heights. You can check out more of the BMW X5 interior features with East Bay BMW below, plus gain some insight on the new BMW X5 seating capacity and cabin…

If you're in the market for a versatile, capable luxury sport utility vehicle, the 2020 BMW X3 is a formidable choice for your weekend home improvement projects and family camping trips in the Bay Area. While you sit immersed in the cabin's luxury, your new BMW X3 towing capacity can haul up to 4,400 pounds…

When properly equipped with the right powertrain configuration and a BMW X5 tow hitch, the 2020 BMW X5 towing capacity reaches a 7,200-pound maximum. That's a whole lot of power for San Francisco drivers to take advantage of – more than enough to get a compact camper out to the Northern California Redwoods for a family…